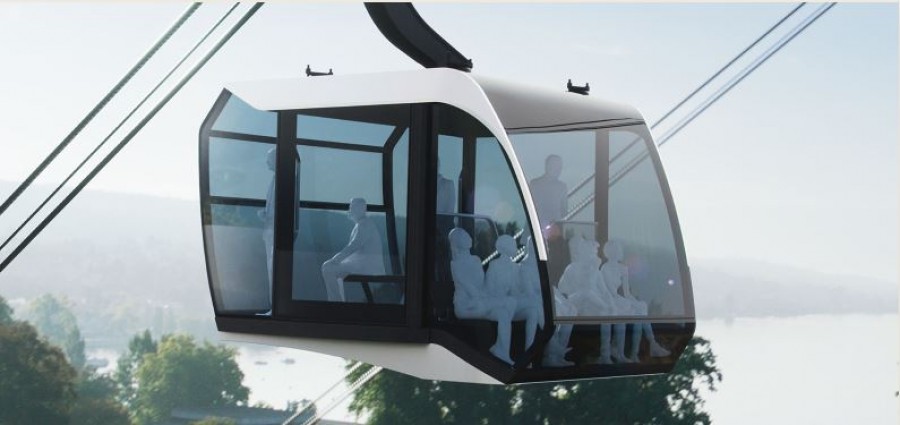 Lake Zurich Gondola Releases Final Designs, Hopes to Open by 2020
After over a year of planning and deliberation, the final designs for the Lake Zurich Gondola (ZüriBahn) has been released by the Zurich Cantonal Bank (ZKB).
The 1.3km urban gondola, envisioned as the keystone of the bank's 150th anniversary celebrations in 2020, will be built with state-of-the-art 3S technology with eighteen 24-person cabins. Due to the technical capabilities of tricable systems, tree removals were avoided as the gondolas can easily cross the lake with just two towers (78m and 88m in height).
If completed on schedule by June 2020, the US$40-60 million system will take guests on an 11-minute aerial journey between Blatterwiese Park and Mythenquai Beach. The system will build on the legacy of two former Lake Zurich gondolas which were constructed in 1939 and 1959.
Despite precedence having been set over 50 years ago, this hasn't stopped present-day opponents from voicing their concerns regarding increased traffic and noise. To overcome these challenges, the project proponents spared no effort towards creating a truly spectacular piece of sustainable infrastructure.
Terminals have been designed with sustainable and recyclable materials whenever possible. Image by Zurcher Kantonalbank.
Aesthetically speaking, the cable car stations have been designed to blend into the surrounding environment. The exterior panelling of the terminals are wrapped with a recyclable film, helping create a lightweight appearance while achieving sustainability objectives. Similarly, to create one-of-a-kind experience, it appears that the system will use customized cabins. The cabins have fully-glazed panoramic windows which provide riders with uninterrupted views of the city and the Alps.
Custom cabins. Image by Zurcher Kantonalbank.
From an environmental perspective, the construction of the cable car's tower foundations will employ a specialized drilling technique known as the KIDRILL. Unlike standard drilling methods which forcefully pound piles into the subsurface, the KIDRILL will carefully screw piles into the subsoil — thereby, resulting in lower noise, vibration and overall impact to the sensitive lakebed. This new technique was necessary to ensure that the erection of the in-water towers do not negatively affect the legally protected riparian zone.
Rendering depicting how tower piles will be screwed into the lakebed. Image by Zurcher Kantonalbank.
Lastly, from an operational and administrative angle, the cable car has designed a fare structure that incentivizes public transit users. Riders transferring from SBB Railways will receive a 30% discount off the standard US$14 adult fare. The proposal has been greenlighted by authorities from the city and cantonal level and is now undergoing an approvals process with the Federal Office of Transport. Permits to begin construction should be ready by next summer.
As urban ropeway technology has exploded around the world, proponents and officials hope that the Lake Zurich Gondola can inspire other cities in the region to rethink city transport solutions.